Hoop Mountain Backcourt Camp
DATES: July 6th, 7th and 8th 2023
PRICE: $525.00 (EARLY BIRD PRICE RESIDENTAIL) 395.00 (EARLY BIRD DAY 8:30 AM – 9:30 PM)
GRADES: 4TH-12TH
LOCATION: WHEATON COLLEGE 26 E MAIN ST. NORTON, MA 02766
CONTACT/DIRECTOR: BRAD SEAMAN, KINGSWOOD OXFORD SCHOOL
-HOOP MOUNTAIN CONFORMS TO ALL THE STATE HEALTH CODES AND PROTOCOLS
-CAN ALSO ATTEND JUNIOR AND SENIOR ELITE CAMP AND DYNAMIC SCORING CAMP
-RESIDENTAL OR DAY CAMP
The Backcourt Camp is for players who have a desire to become better educated in the craft of being an exceptional perimeter player. The Backcourt Camp will cover every aspect of becoming an extraordinary point guard, from skill work fundamentals, to becoming the leader of your team. It is our job to teach you how to become a better floor general and how to run the show. This camp will consist of 25 hours of on the court teaching and instruction from one of the best high school coaches in New England history, Brad Seaman. Kingswood Oxford boys coach Brad Seamen has been a cutting-edge professional trainer for over eight years will be directing the camp.  Brad grew up spending every summer at Hoop Mountain. As a long time camper, Brad could not soak up enough basketball expertise each summer. Brad's quest was to become the best player he could be. His tireless drive allowed him to play college basketball at Suffolk University. Upon his graduation at Suffolk, Brad set his sights on becoming the finest basketball trainer. Today Brad is able to make the claim many of the players he began training at their beginning of development have emerged as exceptional high school and college players. For example, Brad started training Gavin Griffiths while he was in the sixth grade. In the class of 2023 Gavin was ranked twenty second in the country. Brad has also coached Gavin at Kingswood Oxford over the past four years. Brad plans to incorporate a variety of new technology to allow for full engagement in skill training.
The Backcourt Camp is more than just a basketball camp, it will teach your life lessons on how to become a leader. Our staff takes enormous pride in developing and teaching each camper what it takes to become a superb point guard. We want to give you the knowledge on how to reach your potential as a point guard. Each camper will receive an evaluation from the coaches that is personalized with feedback and suggestions for improvement. The summer is the best time to fine tune your game, and there is no better place to do so than at The Backcourt Camp.
The Backcourt Camp is for players entering 4th-12th grade. Players will be divided by skill and age level.
Chad DiCenzo, Emerson College Point Guard and alumni of Backcourt Camp stated, "Without the Hoop Mountain Backcourt Camp, I would not have reached my potential as a backcourt player. I received tremendous knowledge in backcourt play at this camp. I learned valuable lessons on and off the court. I highly recommend this camp to anyone who wants to become a high school or college backcourt player."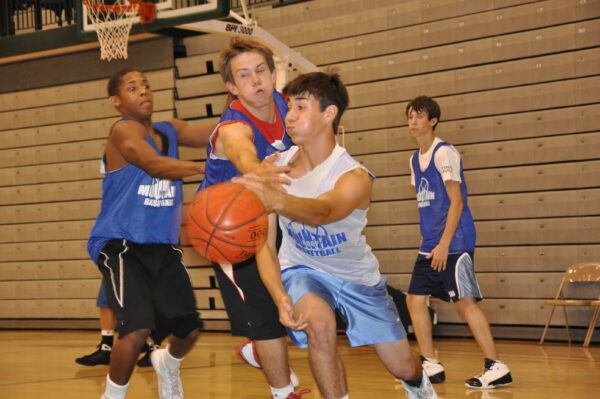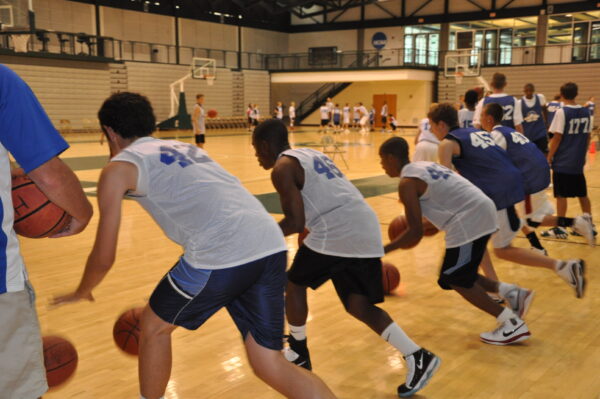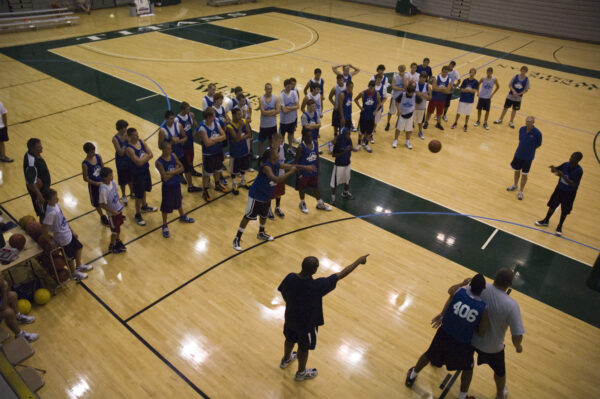 Typical Backcourt Daily Schedule
7:00 Wake up
7:30 Breakfast
8:00 Optional One on One training
8:30 Attendance
8:45 Dynamic stretch
9:00 Train sessions – advance ball handling
9:45 Creating shots for teammates
10:30 Canteen
10:45 Film breakdown
11:15 Creating your own shot
12:00 Lunch
12:30 Optional One on One training
1:00 Attendance
1:15 Dynamic stretch
1:30 Speed/agility training
2:00 How to run a team
2:45 Jump stop and shot fake
3:15 Canteen
3:30 Two on Two and Three on Three game
4:15 Contest
5:00 Dinner
5:30 Optional One on One training
6:00 Attendance
6:15 Dynamic stretch
6:30 Appling skill work into game situations
7:30 Canteen
7:45 Mid-range and long-range
8:30 5 on 5 competition
9:15 Optional One on One training and free gym time
10:00 Return to dorms
10:30 Lights out
Wheaton College – Norton Massachusetts
Wheaton College is conveniently located 30 minutes from downtown Boston. Hoop Mountain provides a very safe and healthy environment for your children.  At Hoop Mountain we conformed to all the local health standards and rules.  Campers are not allowed to leave the camp at any time without a Hoop Mountain supervisor.  As a camp we walk together from the dorm to the dining hall and to the athletic center.  Camp director Steve Gibbs also serves as the dorm director and resides in the dorm with his dorm staff and campers Wheaton College dinning will cater to any camper dietary requirements.
The dorms are on the campus of Wheaton College.  Campers are given the option to commute each day and not reside on the campus.  The dorm rooms accommodate two campers.  Campers can request roommates up to two weeks prior to the start of camp.  The athletic facility is not air conditioned.   We will provide industrial fans.