Hoop Mountain Elite Camp
Dates: July 12TH, 2022 – July 14th, 2022
Price: $495.00 (Residential Price) $370.00 (Day Price 8:30 AM – 9:30PM)
Grades: 4th – 12th
Location: Brandies University (Waltham, MA)
Contract/Director: Steve Gibbs- Sgibbshoopmountain@gmail.com (978) 852-5121
-Residential camps with day time option
-Also, can attend Point Guard + Offensive Basketball session
-Hoop Mountain conforms to all the state health guidelines and protocols
Hoop Mountain Elite Camp session is designed for players entering 4th-12th grade in the fall.  The camp is an ideal blend of instruction and high level games. We take great pride since 1986 offering campers the finest instruction. We have college and high school coaches on staff to properly teach players the game.  Our days start with an optional early bird workout at 7am and will end with another optional workout at 10pm with many skills and drills and games in between.  Our campers can benefit from one on one and team training with our elite coaching staff. Our focus is to key on all aspects of the game when you leave camp. Our goal is to allow for maximum personal growth to your game.
We have players from all across the world competing at this session. We believe the high level competition at our camp will bring out the best in a players game.  In addition to teaching all day, the players can play up to 12 games during the session. Each camper will play an equal amount of playing time in each game. Players will be coached by College, prep school and high school coaches from around the region. The camp deposit is non-refundable.
Hoop Mountain's college evolution and placement at the Junior and Senior Elite session
Taking advantage of our 36 year experience connecting players to colleges. We offer for any camper the following:
Evaluation of your game to determine what level of college basketball that would be achievable for a player done by college coaches and scouts.
Expert consultation on how to map out the right path for your son to play college basketball
Connecting your son with the appropriate colleges after camp
Year round consultation is provided by Hoop mountain
Hundreds of players have earned scholarships at the Hoop Mountain Elite Prospect Camp throughout our 36 year history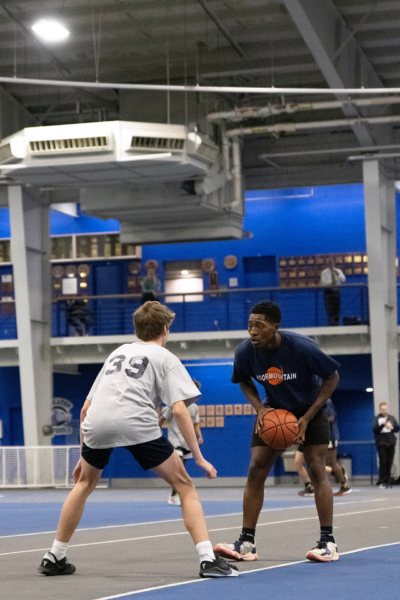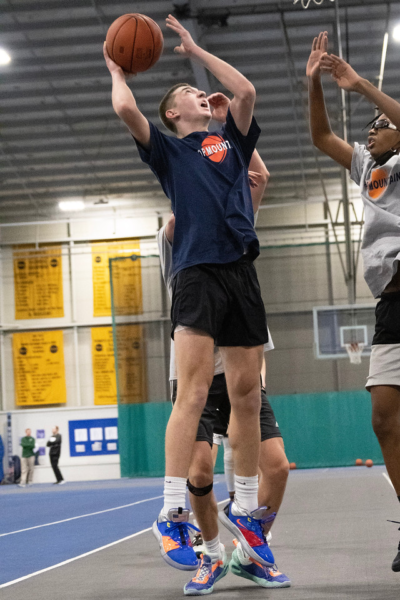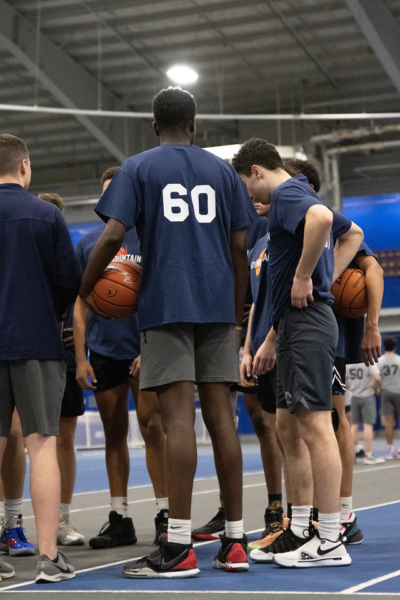 Typical Daily Schedule at our Session
7:00 Wake up
7:30 Breakfast
8:00 Optional One on One training
8:30 Attendance and announcements
8:45 An dynamic stretch
9:00 Skills – Mid Range and Long-Range Shooting
9:45 Advanced ball handling
10:30 Canteen
10:45 Team practice
11:00 Camp game
12:00 Lunch
12:30 Optional One on One training
1:00 Attendance and announcements
1:15 Dynamic stretch
1:30 Finishing at the rim
2:15 How to run a fast break
3:00 Canteen
3:15 Film Session
4:00 Game
5:00 Dinner
5:30 One on One optional training
6:00 Attendance and Announcements
6:15 Dynamic Stretch
6:30 Footwork session
7:00 Art of unitizing a ball screen
7:45 Game
9:00 Optional One on One training + free game
9:00 Canteen
10:00 Back to dorms
10:30 Lights out
Brandies University – Waltham Massachusetts
Brandeis University is conveniently located minutes from downtown Boston.  Hoop Mountain offers shuttle to and from Logan Airport in Boston.  Hoop Mountain provides a very safe and healthy environment for your children.  At Hoop Mountain we conform to all the local health standards and rules. Campers are not allowed to leave the camp at any time without a Hoop Mountain supervisor.  As a camp we walk together from the dorm to the dining hall and to the athletic center.  Camp director Steve Gibbs also serves as the dorm director and resides in the dorm with his dorm staff and campers.  Brandeis University dinning will cater to any camper dietary requirements.
The dorms are on the campus of Brandeis University.  Campers are given the option to commute each day and not reside on the campus.  The dorm rooms accommodate two campers.  Campers can request roommates up to two weeks prior to the start of camp.  The athletic facility is not totally air conditioned.   We will provide industrial fans.