Back Court Camp
DATES: JULY 10TH, 2021 – JULY 12TH, 2022
PRICE: $495.00 (RESIDENTIAL) $370.00 (DAY 8:30 AM – 9:30 PM)
GRADES: 4TH-12TH
LOCATION: BRADEIS UNIVERSITY
CONTACT/DIRECTOR: MIKE HART ST. ANDREWS
-HOOP MOUNTAIN CONFORMS TO ALL THE STATE HEALTH CODES AND PROTOCOLS
-CAN ALSO ATTEND JUNIOR AND SENIOR ELITE CAMP (July 12-14)
-RESIDENTIAL OR DAY CAMP
Back Court Camp is for players who have a desire to become better educated in the craft of being an exceptional point guard. Back Court Camp will cover every aspect of becoming an extraordinary point guard, from skill work fundamentals, to becoming the leader of your team. It is our job to teach you how to become a better floor general and how to run the show. This camp will consist of 25 hours of on the court teaching and instruction from one of the best high school coaches in New England history, Mike Hart. Mike Hart, the director for Back Court Camp, is the coach of perennial prep school powerhouse St. Andrew's School of Barrington, Rhode Island. Mike has led St. Andrew's to 6 New England Prep School championships while also coaching many NBA and high-major college talents. Coach Hart has coached many great point guards in his tenure including 2014 NBA Rookie of the Year Michael Carter-Williams. Coach Hart has an accomplished staff of former backcourt stars, high school coaches, college coaches, and current college guards. Back Court Camp has had numerous alumni go on to play college basketball ranging from division 1 universities to high-academic division 3 institutions.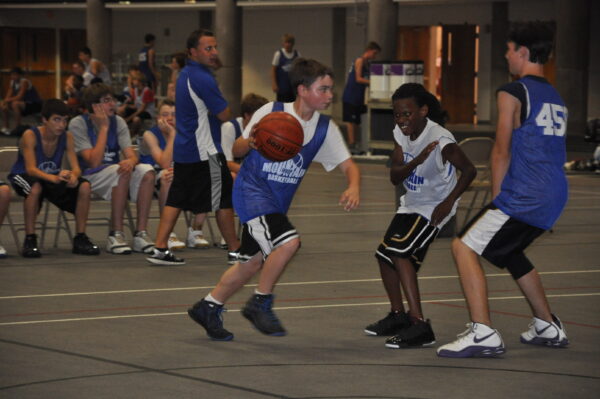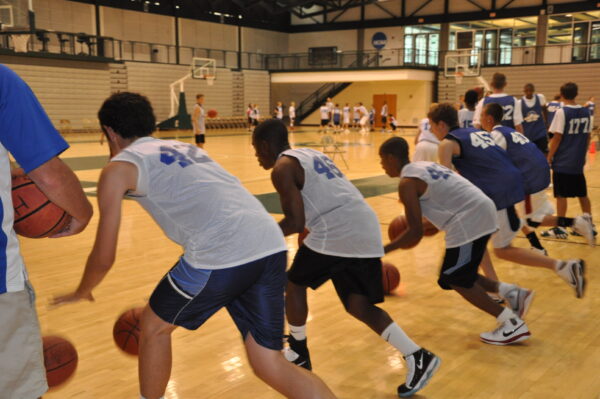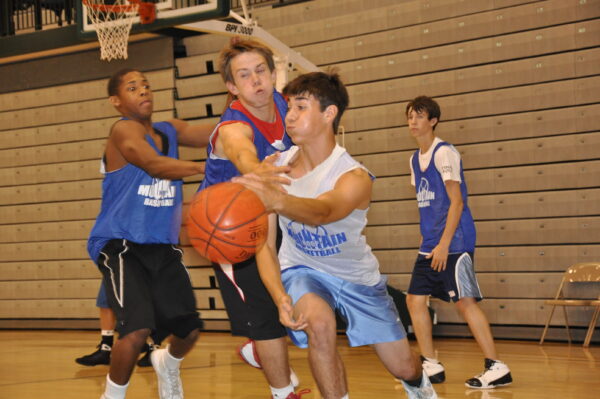 Chad DiCenzo, Emerson College Point Guard and alumni of Back Court Camp stated, "Without the Hoop Mountain Back Court Camp, I would not have reached my potential as a point guard. I received tremendous knowledge in point guard play at this camp. I learned valuable lessons on and off the court. I highly recommend this camp to anyone who wants to become a high school or college point guard."
Back Court Camp is more than just a basketball camp, it will teach your life lessons on how to become a leader. Our staff takes enormous pride in developing and teaching each camper what it takes to become a superb point guard. We want to give you the knowledge on how to reach your potential as a point guard. Each camper will receive an evaluation from the coaches that is personalized with feedback and suggestions for improvement. The summer is the best time to fine tune your game, and there is no better place to do so than at Point Guard Camp.
Back Court Camp is for players entering 4th-12th grade. Players will be divided by skill and age level. The camp deposit is non-refundable.
Typical Back Court Camp Daily Schedule
7:00 Wake up
7:30 Breakfast
8:00 Optional One on One training
8:30 Attendance
8:45 Dynamic stretch
9:00 Train sessions – advance ball handling
9:45 Creating shots for teammates
10:30 Canteen
10:45 Film breakdown
11:15 Creating your own shot
12:00 Lunch
12:30 Optional One on One training
1:00 Attendance
1:15 Dynamic stretch
1:30 Speed/agility training
2:00 How to run a team
2:45 Jump stop and shot fake
3:15 Canteen
3:30 Two on Two and Three on Three game
4:15 Contest
5:00 Dinner
5:30 Optional One on One training
6:00 Attendance
6:15 Dynamic stretch
6:30 Appling skill work into game situations
7:30 Canteen
7:45 Mid-range and long-range
8:30 5 on 5 competition
9:15 Optional One on One training and free gym time
10:00 Return to dorms
10:30 Lights out
Brandies University – Waltham Massachusetts
Brandeis University is conveniently located minutes from downtown Boston.  Hoop Mountain offers shuttle to and from Logan Airport in Boston.  Hoop Mountain provides a very safe and healthy environment for your children.  At Hoop Mountain we conformed to all the local health standards and rules.  Campers are not allowed to leave the camp at any time without a Hoop Mountain supervisor.  As a camp we walk together from the dorm to the dining hall and to the athletic center.  Camp director Steve Gibbs also serves as the dorm director and resides in the dorm with his dorm staff and campers.  Brandeis University dinning will cater to any camper dietary requirements.
The dorms are on the campus of Brandeis University.  Campers are given the option to commute each day and not reside on the campus.  The dorm rooms accommodate two campers.  Campers can request roommates up to two weeks prior to the start of camp.  The athletic facility is not totally air conditioned.  We will provide industrial fans.