Junior & Senior Elite Prospect Camp
DATES: JULY 7TH, 2021 – JULY 10TH, 2021
PRICE: $555
GRADES: 4TH-POST GRADUATE 13TH
LOCATION: ROGER WILLIAMS UNIVERSITY
CONTACT/DIRECTOR: STEVE GIBBS – sgibbshoopmountain@gmail.com (978)852-5121
Hoop Mountain – Junior and senior elite prospect camp is actually two camps in one.  The junior high player (5th – 8th) grade will be participating in the junior elite prospect camp while the high school player (9th– 13th) grade will be participating in the senior elite prospect camp.
Junior Elite Camp
The Hoop Mountain Junior Elite Prospect Camp is a high-level instruction camp.  The camp is for players looking for an all-in-one camp to take their basketball game to the next level through games, skill work, film session, and guest lectures.  All players will receive outstanding instruction and play against some of the best competition throughout the region.
The camp provides a no-nonsense environment where players can learn from some of the best teachers in the game.  All coaches at the junior prospect camp are hoop mountain certified ranging from prep school coaches, former professional players, high school, club coaches and college players.  Every staff member shares one common trait; the desire to help our campers meet their potential.
At the Junior prospect camp players are placed in respective leagues depending on their age and talent.  Each league will offer customized coaching and instruction.  Coaches focus on campers mid-Range and long-range shooting ability, finishing at the rim, ball handling techniques, passing, proper cutting and screening, transition moves, offensive and defensive rebounding, man on man and team defense.
The goal of the coaches is to evaluate each of the player on their team strength and weakness.  While during the process of coaching each team member, striving to develop each campers weakness and continue to fine tune the campers strengths.  Our highly trained coaches plan to push each team member to step outside their comfort zone.  If a camper doesn't want to utilize their off hand to handle the ball in a game then the coach will challenge the camper to do just that.  We want the campers to experiment his or her limitations and work to become a complete player.  Each day consists of countless hours of individual and team training.  As a residential camp we make it our duty training all day and night, also included in the daily regiment is three highly competitive games. All campers will need to fill out this waiver form.
Features of the Hoop Mountain Junior Elite Prospect Camp
12 Hours of daily basketball training
Film Study
Experience from prep school and high school coaches
Become a superior ball Handler
Enhanced ability to make shots
Strengthen ability to get to the rim
Gain mental Toughness
Compete versus elite players from around the world
How to become an elite defender
Learn how to play without the ball
"After attending the hoop Mountain Junior elite camp my eyes were opened up.  My game was pushed to brand new limits.  My camp coach challenged me to attempt new methods in the course of games which led me to new found success.  The coach's mindset was not to accept a ceiling or to put a cap in my achievement at camp.  From the minute I stepped on the court my camp coach was able to get me to levels, I didn't think I could reach."
-Chad Dezenio, Former Hoop Mountain Junior Elite Camper
"As a former Hoop Mountain camper and now camp coach I have a very unique perspective on Hoop Mountain.  As a player I competed versus some of the finest players in the region.  Now as a coach at camp I want to convey to my campers the importance of learning one or two new moves to add to their game.  Upon learning the camp my desire is to instill in the player to continually add to their game."
-Mike Sanders, Former Hoop Mountain Junior Elite Camper and Coach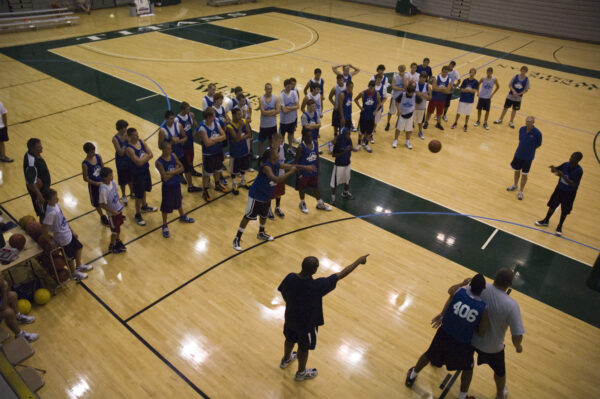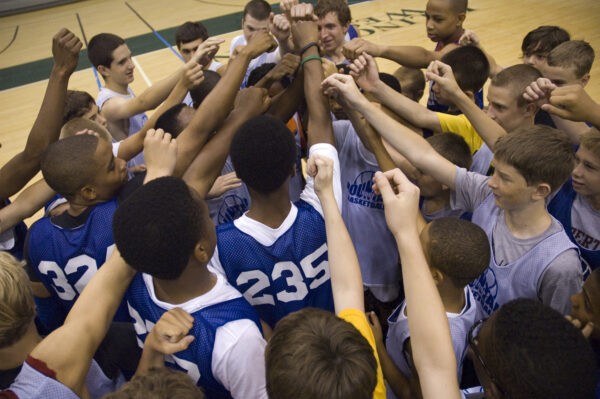 Senior Elite Prospect Camp
Hoop Mountain Senior Elite Prospect Camp is designed for players entering 9th grade through Post Graduate.  The camp has a perfect blend of instruction, games and college evaluation.  Campers at the senior elite prospect camp are coached by college prep school and high school coaches.  Hundreds of players have earned scholarships at the senior elite prospect camp throughout the camps.  During our Thirty five-year history, the secret part of the camp is around the personal teaching.  Players are in the gym the entire day receiving instruction from college and prep school coaches, starting with the 6:45 am early bird session to the night owl session at 10:00 pm at night.  The players only leave the athletic center for dining. This is an overnight camp.
The following colleges have been represented at hoop mountain in the last couple of years: Adelphi, A.I.C, Assumption, Babson, Bates, Boston College, Boston University, Brandeis, Bryant, Colby, Dominican, Florida Southern, Franklin Pierce, Goldey- Beacon, Merrimack, Northwestern, Pace, Roger Williams, Sacred Heart, Seton Hall, Southern Connecticut, Southern New Hampshire, St. Michaels, Trinity, Tufts, UMass, University of Science, Vassar, Wesleyan, and others.  Many of the finest New England Prep Schools head coaches have been staffed; Canterbury, Cheshire Academy, Groton, Maranapolis, Phillips, Andover, Pingree, St Andrews, Suffield, Williston North Hampton, Worcester Academy.
"I didn't know what to expect prior to attending camp.  The camp provided me lots of one-on-one training to become an elite player. After being taught skill work my confidence soared when I returned home from the minute, I woke up to the time I went to bed the overall concentration of the camp was focusing on developing my game"
-David Johnson, Former Hoop Mountain Elite Prospect Camper.
Typical Daily Schedule
7:00 Wake up
7:30 Breakfast
8:00 Optional One-on-One training
8:30 Attendance and announcements
8:45 Dynamic stretching
9:00 Skills – Mid-Range and Long-Range Shooting
9:45 Advanced ball handling
10:30 Canteen Break
10:45 Team practice
11:00 Camp game
12:00 Lunch
12:30 Optional One-on-One training
1:00 Attendance and announcements
1:15 Dynamic stretching
1:30 Finishing at the rim
2:15 How to run a fast break
3:00 Canteen Break
3:15 Film Session
4:00 Camp Game
5:00 Dinner
5:30 One-on-One optional training
6:00 Attendance and Announcements
6:15 Dynamic Stretching
6:30 Footwork session
7:00 Art of unitizing ball screens
7:45 Came Game
9:00 Optional One-on-One training & free game
10:00 Back to dorms
10:30 Lights out